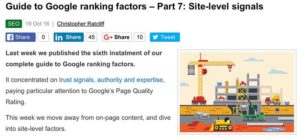 A new article just published at Search Engine Watch covers the many site-level signals that help Google judge the overall quality of a website.
These technical ranking factors include security (HTTPS), site speed and mobile friendliness. The issues of speed and mobile friendliness are especially relevant for those  striving to go more visual with their web content. The guide provides sufficient detail without getting too technical.
This is the seventh in a series on Google ranking factors. SEW has provided links at the bottom of the article to the previous six. Article six focuses on trust signals, including authority, identity, and expertise. A number of articles deal with content issues such as originality and freshness, content quality, and duplicate content. They also deal with that ever-vexing issue of just exactly where and how to use keywords.
Follow the links at the bottom of each guide and reward yourself with even deeper knowledge of the key SEO factors. You'll find that these factors really apply in some way to nearly all search engines. You may even find yourself rewarding your readers with a better quality website.