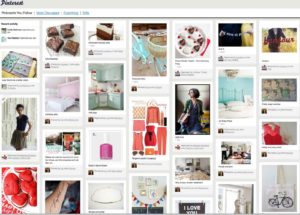 The Wall Street Journal recently provided some good insights on Pinterest, Facebook and Twitter including latest user data. In the article, Pinterest is positioned as a "visual search service" boasting 150 million users world-wide who log on at least monthly. That means the San Francisco startup has increased its users by half since September 2015, when it crossed the 100-million mark.
The six-year-old company, which last year was valued by investors at $11 billion, expects to triple last year's revenue to $300 million in 2016, according to a person familiar with the matter. People go to Pinterest to discover new ideas, browsing through billions of images on topics such as kitchen remodels and tattoos. Most ads on Pinterest are from retailers and consumer-product companies geared to women, its main audience.
Inevitably, it will also be compared with social network giant Facebook and messaging service Twitter, two companies that went in opposite directions since their IPOs.
Facebook dwarfs Pinterest with 1.7 billion users, after adding more than 167 million since September of last year. But Pinterest is growing at a faster clip than Twitter, which has 313 million users but added only six million users in the past year.
Pinterest likely is now bigger in the U.S. than Twitter, with 70 million monthly users versus Twitter's 66 million as of June 30. Twitter's $13 billion market value, which has dropped sharply of late, is now closer to that of Pinterest.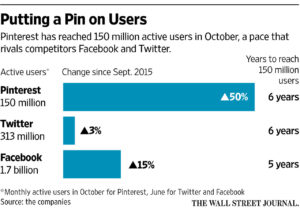 Pinterest says 40 percent of global sign-ups are by men, though they don't stick around as long as women, who account for about 70 percent of Pinterest's U.S. users, according to digital analytics firm comScore.
According to Kristi Argyilan, Target's senior vice president of marketing, "The consumer's intent to buy is much more intense on Pinterest than other platforms."