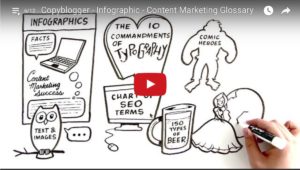 There has to be an Infographic out there that explains Infographics, but like so much of today's content the best definition is more likely a video. That's what you get in a clever animated video from CopyBlogger, "Infographics Defined in 60 Seconds."
For those who prefer to read, you'll find that CopyBlogger provided a transcript on their website. Here are some highlights:
The infographic is the darling of the content marketing world
Publishers who use infographics grow traffic 12 percent more
An infographic will get a lot more attention than a typical text blog post
Almost Everything You Need to Know about Content Marketing in 12 Minutes
If you go to YouTube to watch the Infographics video from CopyBlogger, you may notice they've posted a total of 12 "white board" animations on YouTube, each one defining an online marketing concept.
If you watch them all, you will learn a good bit more about a lot of the things that go into content marketing. It may not be "everything you need to know," but it's a good start. Media, tools, strategy… there's a little bit of everything in just a few minutes.
Here's a complete list and a link to the video page on you tube, starting with their Content Marketing video:
A/B Testing
Content Marketing
Cornerstone Content
Digital Commerce
Email Marketing
Infographics
Landing Page
Marketing Automation
Marketing Site
Podcast
SEO
USP